Item Availability: 1 at this price
Roland TD-25KV Electronic Drum kit, Mint Condition Used Kit.
Guaranteed to work 100%. Buy it for $1999 and get FREE SHIPPING TO THE LOWER 48 STATES!!
All drums and stand have been meticulously put back in original boxes with original packaging.
Hi Hat stand and drumstick holder shown in picture are not included.
Remember, Elevated Audio will always BEAT, not match, any other authorized dealer's price on brand new Roland V-drums or V-drum bundles! YOU Always WIN buying from US!
Elevated Audio is the LARGEST independent V-Drum dealer in California. Give us a call and you'll know why!
With the TD-25KV, serious drummers can tap into high-end V-Drums playability in a mid-level kit for home and studio. Equipped with a sound engine derived from the flagship TD-30, the TD-25KV delivers all the acclaimed expressiveness that makes Roland's top-line V-Drums the undisputed choice of pro players everywhere. A streamlined interface makes it easy to create personalized kits, while the built-in audio recording function lets you capture drum performances for evaluation and sharing. Other premium features include mesh-head pads for a natural feel, positional snare sensing for enhanced expression, and the VH-11 V-Hi-Hat for playing with authentic hi-hat techniques.
Advanced SuperNATURAL sound engine based on the flagship TD-30
Sound quality and expressiveness equivalent to the top-of-the-line V-Drums
Simple, logical interface for easily swapping and customizing each drum and cymbal in a kit
PDX-100 10-inch mesh-head snare pad with support for positional sensing and rim shot/cross stick playing
Three mesh-head tom pads: two PD-85BK 8-inch pads for rack toms and one PDX-100 10-inch pad for floor tom
VH-11 V-Hi-Hat mounts on a standard acoustic hi-hat stand and offers realistic motion and a natural acoustic feel
Two CY-12C 12-inch crash cymbals with natural swinging motion, edge/bow sensors, and choke control; CY-13R 13-inch ride cymbal with natural swinging motion and edge/bow/bell triggering
KD-9 kick pad with cloth head for great feel and solid playability
Play along with WAV/MP3 songs and capture drum performances as audio tracks to a USB memory stick
Build drumming skills with the onboard Coach function
Quick-access metronome with dedicated screen, on/off button, and tempo knob
USB host port for audio/MIDI communication with a computer
Unrivaled Sound and Expressiveness!
The TD-25KV delivers a superior drumming experience, thanks to Roland's SuperNATURAL technology with Behavior Modeling inherited from the flagship TD-30. The sound engine responds naturally and organically to your playing in every way, providing the dynamic, interactive feel that's essential for reaching the highest levels of musical expression. From rim shots, rolls, flams, and ghost notes on the snare to dramatic crash hits and sustained cymbal swells, every nuance is detailed, accurate, and ultra-smooth.
High-End Feel and Playability
When you sit down at the TD-25KV, you'll enjoy expressive playability that rivals high-end V-Drums sets. There's a full compliment of mesh-head pads for the legendary V-Drums feel, with positional sensing on the snare pad that provides subtle, organic tonal changes depending on where the pad is struck. The cymbals have a natural swinging motion and support chokes, bow/edge sounds on the crash, and bow/edge/bell sounds on the ride. Mounting on a standard hi-hat stand, the VH-11 V-Hi-Hat features open/closed motion and bow/edge sounds for executing traditional playing techniques to perfection. Last but not least is the KD-9 Kick Pad, which offers a natural-feel cloth head and rock-solid response.
Call Up Kits and Start Playing Immediately
With its no-nonsense interface, the TD-25KV's sound module lets you enjoy playing great sounds for any music right away. Easy to grab while holding sticks, the large center dial allows you to quickly select kits based on music styles such as standard, rock, jazz, electronic, and others. After you've selected a style, press the dial to toggle between different kit variations. Next step? Start playing!
Customize Kits for Your Personal Style
The TD-25KV makes it simple to edit sounds to suit your playing touch or a specific style of music. Just hit a pad to call up the sound assigned to it, and then use the module's knobs to select instruments and tweak tuning, muffling, and levels. Handy shortcuts greatly speed up tom editing, allowing you to assign sounds and change the muffling and tuning for all the toms at once. Your changes are saved automatically as you edit, eliminating the need to fuss with extra steps. If you don't like your most recent tweaks, you can easily undo them and return to where the kit was at when you first selected it.
Play Along with Tracks and Record Audio Performances
Want a little jamming music to play along with? Just load up a USB memory stick with favorite WAV/MP3 songs and get lost in playing for hours. In addition to normal playback, you can loop sections you'd like to work on, or slow the playback speed to more easily learn fast fills and articulations. Alternately, you can plug a smartphone into the audio input and drum with songs from your music library or the web. It's also possible to record your drumming performances (along with music playback) as audio files to a USB memory stick, offering a great way to evaluate your playing and share your drumming with friends and music producers. The sound module is equipped with a USB host port as well, providing a convenient connection for recording audio and MIDI data directly into DAW software.
KIT CONFIGURATION
Drum Sound Module: TD-25 x 1
V-Pad (Snare): PDX-100 x 1
V-Pad (Tom1, Tom2): PD-85 x 2
V-Pad (Tom3): PDX-100 x 1
V-Hi-Hat: VH-11 x 1
V-Cymbal Crash: CY-12C x 2
V-Cymbal Ride: CY-13R x 1
Kick Pad: KD-9 x 1
Drum Stand: MDS-9SC x 1
OTHER
Extra Trigger Input Jack: 1 (AUX)
Accessories: Drum Key, Setup Guide
Options (sold separately):
- Cymbal Mount: MDY Series
- Pad Mount: MDH Series
- Personal Drum Monitor: PM-10
- Stereo Headphones: RH-300V
- Noise Eater: NE-10, NE-1
- V-Drums Accessory Package: DAP-3X
- V-Drums Mat: TDM10, TDM-20
SIZE AND WEIGHT
Width (W): 1,300 mm (51-3/16 inches)
Depth (D): 1,200 mm (47-1/4 inches)
Height (H): 1,250 mm (49-1/4 inches)
Weight: 26.5 kg (58 lbs. 7 oz)
* Weight includes MDS-9SC, Sound Module, Kick Pad, Cymbals, and Drum Throne
* Kick Pedal, Hi-Hat Stand, and Drum Throne are not included.
All specifications and appearances are subject to change.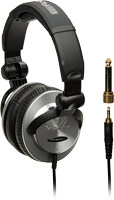 RH-300V
V-Drums® Headphones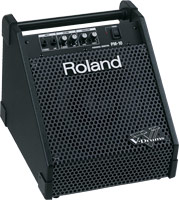 PM-10
Personal Monitor Amplifier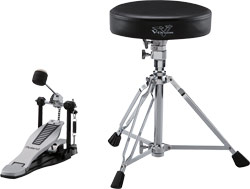 DAP-3X
V-Drums® Accessory Package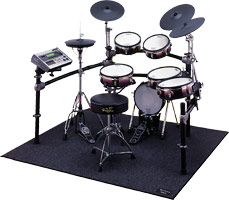 TDM-20/-10
V-Drums® Mats


MDH-25
Pad Mount


MDH-12
Pad Mount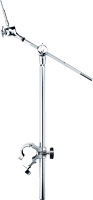 MDY-25
Cymbal Mount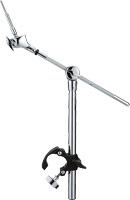 MDY-12
Cymbal Mount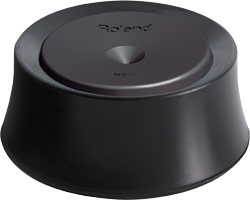 NE-1
Noise Eater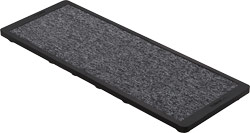 NE-10
Noise Eater